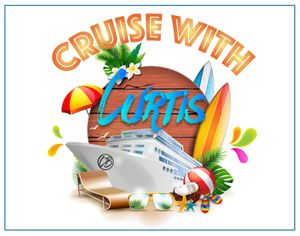 March 27, 2018 (Nashville, Tenn.) – Nashville recording artist Curtis Braly will welcome many of his closest fans aboard the Carnival Valor for a 6-day/5-night voyage on the high-seas departing from Galveston, Texas April 7. This year's Cruise with Curtis promises to be filled with great music, fun and lots of memories including an interactive scavenger hunt. 
"I'm so excited to be embarking on this incredible journey with my fans," states Braly. "I intend to give Team Curtis an experience they will never soon forget. Being onstage and looking out on a crowd is thrilling, but getting to know your fans on a more intimate and personal level is quite special. I mean, there's nothing like sharing stories while sipping margaritas on the Lido Deck." 
Guests will join Braly for an up-close-and-personal writers round and other engaging on-board activities including a special concert onboard for his guests. The itinerary also includes stops in Cozumel and Yucatan (Progreso), Mexico. 
For more information, visit https://www.curtisbraly.com/cruisewithcurtis
On March 9, Braly released "Hate Me", as the newest single off his album You Matter. The song as well as album were produced by legendary producer Kent Wells and the track features award-winning guitarist Derek Wells. 
"Hate Me" has been a huge crowd favorite during Braly's shows in recent months. Braly mentions that his fans played a big part in convincing him to release the track as a single. 
Listen to the track here:  https://curtisbraly.com/hate-me
-----
#CruiseWithCurtis